Christina Kempf guest lecturer at the University of Montpellier, France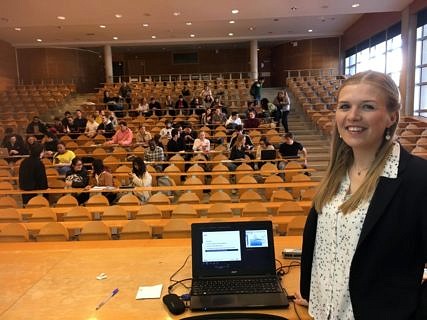 In March 2019, Christina Kempf, M.Sc., spent three weeks at our partner university in Montpellier (UM), France, as a guest lecturer and visiting PhD student. During her guest lecture, she compared the economies, businesses and cultures of the two neighboring countries France and Germany. She focused on Germany's role in the global economy and the importance of medium-sized enterprises.
The guest lecture as well as Christina's participation in two doctoral seminars on research methodologies and theories allowed to further strengthen the relationship between the two partner universities FAU and UM.
Every year, several students of the Faculty of Business, Economics and Society are sent to the University of Montpellier which offers a broad course portfolio and high academic standards. UM is one of the leading universities of France. Montpellier has a Mediterranean climate with a unique offer of culture, culinary art and history.