EIBA Annual Conference 2021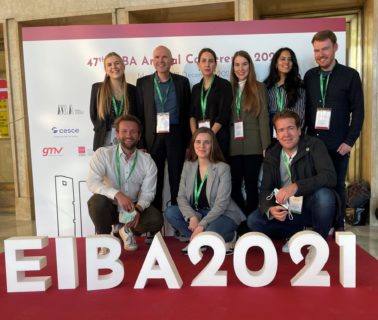 Members and alumni of the Department of International Management presented their research at the 47th EIBA Annual Conference in Madrid this year. The following presentations were held:
Theresa Bernhard: Organizational reputation in cross-border acquisitions.
Christina Heidemann: How employees solve the puzzle of information from diverse sources on a cross-border acquisition.
Marc Oberhauser, Laura Kirste, and Dirk Holtbrügge: How microfoundations impact the diffusion of CSR practices in global supply chains.
Nikhila Raghavan: Pollution Haven Hypothesis and Foreign Direct Investment in India.
Luisa Wicht: Virtual assignments – bridging distance through zooming.
EIBA vice-chair and alumnus of the department, Prof. Dr. Jonas Puck of WU Vienna Institute for International Business in Austria, facilitated a panel on "SDGs and Sustainable Development in Emerging markets" and, together with his co-authors, presented several papers.