EURAM: Best Paper Award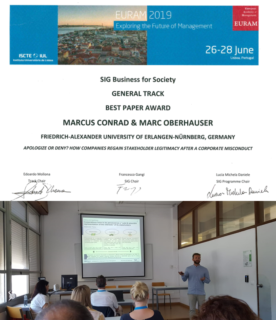 Marc Oberhauser participated in the European Academy of Management (EURAM) Conference, which took place in Lisbon, Portugal from 26th till 28th June 2019. Marc presented the joint research project "Apologize or Deny? How Companies Regain Stakeholder Legitimacy After Corporate Misconduct" written by Professor Dirk Holtbrügge, Marcus Conrad, M.Sc., and Marc Oberhauser, M.Sc. Their study won the Best Paper Award in the Business 4 Society General Track.
The trip was financially supported by the Dr. Alfred-Vinzl-Stiftung.